THE BEAUTIFUL COUNTRY tells the harrowing story of a young, half-caste refugee's escape from impoverishment and servitude in Viet Nam. Raised in rural countryside south of Saigon by his extended family, since the latter days of the Vietnamese war, Binh has grown-up believing his mother dead and his American serviceman father long-since returned to Houston, Texas. Surrounded by a wounded and intolerant society, Binh has been cruelly raised as "less than dust" - shunned for both his lineage and his striking physical appearance. Upon learning that his mother is still alive in Saigon, he determines to leave his rural existence behind to find her. In so doing his journey leads him beyond the city - onto America, by way of internment in a Malaysian detention camp and aboard a smuggler's cargo freighter.

The film marks the second successful collaboration between composer Zbigniew Preisner and director Hans Petter Moland, following their previous experience on "Aberdeen" (2000). It is to the musical territory of this film that Preisner's returns, with similar orchestrations and a distinct harmonic language deftly tackling continued themes of abandonment, loss, and reunion.
---
IN STOCK NOW FROM DISQUES CINEMUSIQUE


The Canadian label Disques CineMusique has released a fifth new recording of Georges Delerue film music arranged by Robert Lafond, devoted this time to the British director Jack Clayton (1921-1995). The program collects the best excerpts from five movie scores produced between 1964 and 1992 : THE PUMPKIN EATER, OUR MOTHER'S HOUSE, SOMETHING WICKED THIS WAY COMES, THE LONELY PASSION OF JUDITH HEARNE and MEMENTO MORI. It's a world premiere on disc for half of this music. For this project, five instrumentalists and a soprano soloist join keyboardist, guitarist and programmer Robert Lafond. The 20-page booklet includes numerous stills from the movies.THE MUSIC OF GEORGES DELERUE FOR THE FILMS OF JACK CLAYTON.
---
| | | |
| --- | --- | --- |
| COMING SOON! | NEW ITALIAN | RELEASES! |
IN STOCK AND COMING SOON!
BALLATA PER UN PISTOLERO by Marcello Giombini
CLINT IL SOLITARIO by Nora Orlandi
I QUATTRO DELL'AVE MARIA (ACE HIGH) by Carlo Rustichelli
LA TIGRE E LA NEVE by Nicola Piovanni
LES DUE SAISONS DE LA VIE by Ennio Morricone
L'ISPETTORE COLIANDRO by Pivio & Aldo De Scalzi
LA FRUSTA E IL CORPO & SEI DONNE PER L'ASSASSINO by Carlo Rustichelli
PIEDONE A HONG KONG by Guido & Maurizio De Angelis
TEX WILLER E IL SIGNORE DEGLI ABISSI by Gianni Ferrio
VERSO LA GIOIA by Marco Frisina
---
NEW FROM FILM SCORE MONTHLY!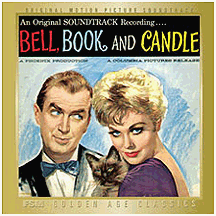 Golden Age Classics: BELL, BOOK AND CANDLE/1001 ARABIAN NIGHTS
FSM continues its presentation of George Duning's best scores with two delightful comedy-fantasies: Bell, Book and Candle (1958) and 1001 Arabian Nights (1959), paired from the Colpix Records stereo masters.
Bell, Book and Candle was a popular comedy starring Jimmy Stewart and Kim Novak in a sly take on contemporary Manhattan witchcraft. The film was one of George Duning's favorite projects, allowing him to exercise his gift for melody, romance, and jazz (in several source cues featuring The Candoli Brothers on trumpet).
1001 Arabian Nights was the animated Mr. Magoo version of Aladdin and the Magic Lamp, produced by UPA Pictures and starring Jim Backus. Duning provided a splendid, tuneful score, including three songs with lyricist Ned Washington: "Magoo's Blues," "You Are My Dream" and "Three Little Maids From Damascus," and exciting Middle Eastern flourishes.
FSM's premiere CD of these two soundtracks is entirely in stereo, and includes the "bonus track" from the Citadel Records LP reissue of Bell, Book and Candle. New liner notes by Daniel Champion are presented along with the original LP commentaries.
and also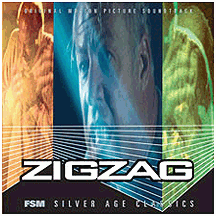 Silver Age Classics: ZIGZAG/THE SUPER COPS
FSM returns to the heart of the Silver Age of film music - the early 1970s - with this 2CD set of M-G-M scores by Oliver Nelson and Jerry Fielding.
Oliver Nelson (1932-1975) was best-known for his television music (The Six Million Dollar Man) and superlative arrangements for other musicians (Alfie, Last Tango in Paris). Zigzag (1970), a mystery-thriller starring George Kennedy, was one of Nelson's few features, for which he provided a pair of evocative themes and jazz-based undercurrents. Disc one of this album features the previously unreleased original soundtrack plus the LP re-recording.
Jerry Fielding (1922-1980) scored dozens of projects in the 1970s. The Super Cops (1974), directed by Gordon Parks (Shaft), was based on a true story about a pair of heroic, low-level New York City cops. Fielding provided an amusing, energetic kaleidoscope of moods and styles: anxious, comedic, reflective, and action-packed, with funky source cues.
This 2CD set also features numerous bonus tracks: Disc two includes Fielding's three episode scores for the 1973 TV series Hawkins, plus unreleased Fielding source cues from The Outfit (1973). Disc one adds jazz standard source cues from Zigzag and The Outfit recorded by legendary singer Anita O'Day.
---
COMPOSER ALAN WILLIAMS PROMO CDs NOW IN STOCK.
VERY LIMITED QUANTITIES.

To see all available Alan Williams CDs type ALAN WILLIAMS
in the home page search window.

For all new and past Film Score Monthly releases type FSM
in the home page search window.

For all new and past Brigham Young University releases type BYU
in the home page search window.

For all new and past Varese Club releases type VCL
in the home page search window.

For all new and past Intrada Club releases type ISC
in the home page search window.

For all new and past Percepto releases type PTO
in the home page search window.

For all new and past Prometheus Club releases type PCD
in the home page search window.

For all new and past Hammer horror releases type HAMMER
in the home page search window.

For all new and past Screen Archives Entertainment releases type SAE
in the home page search window.